WELCOME TO TC2290.com !
*** LATEST UPDATE - 26-10-2023 - The 2290 PEDAL is finally REAL!***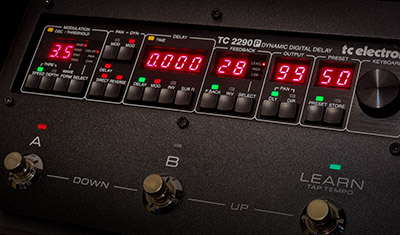 Check it out on TC Electronic's website HERE!
*** 17-4-2018 - The 2290 reborn as a DAW plugin and hardware desktop controller! ***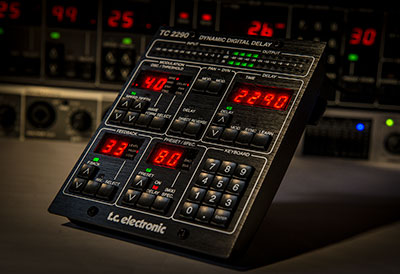 Check it out on TC Electronic's website HERE!
The TC Electronic 2290 Digital Delay + Multi Effects Processor has reached legendary status as a classic piece of musical equipment.
Despite this, no website exists to celebrate and fully explore this fabulous delay unit.
Until now.
This site aims to be the definitive source of all TC 2290 related information. A one-stop-shop for everything there is to know about this classic device.
The TC 2290 is useful on a range of instruments, vocals, or during mixing, but as I myself am primarily a guitarist you might find that some sections of the site and many of the preset examples reflect this. However, most information and presets will work equally well in a variety of situations with a little tweaking.
Follow the menu on the left to view information, pictures, video, manuals, etc. and please do email me with anything you want to add - feel free to contribute your own pictures or info, audio or video, questions and answers to the FAQ, or anything you think would be of interest to fellow TC 2290 users.
-------------------------------------------
DISCLAIMER: This site is not affiliated to the TC Electronic company in any way. It is a user-driven, non-commercial site and all trademarks and copyrights are duly acknowledged.
TC Electronic continue to build other fine products, details of which can be found on their website at www.tcelectronic.com